CM Series
Air Shutoff Valves
Engine Power:

4 - 603 HP

Mass:

1.0 - 18.7 LB

Height:

2.36 - 6.2 in
Combined Manual and Automatic Engine Overspeed Shut Down Valves
A range of easily installed diesel engine air intake valves that automatically close on engine overspeed, and also incorporate a manual shut down feature for additional safety.
The Fluid Power Energy (FPE) CM Series combined manual and automatic overspeed air intake shut down valves are designed for situations where flammable gas or vapor may enter the atmosphere in an area in which a diesel engine is operating.
Should such flammable material be drawn into the engine intake, this may result in uncontrolled engine overspeed, and a situation in which shut down of the diesel fuel supply may fail to stop the engine.
Under these circumstances, a rapid shut down of the engine is required by immediate closure of the engine air intake thereby reducing the potential for significant damage and possible ignition of the flammable material in the surrounding atmosphere.
The FPE CM Series automatic engine air intake shut down valves are suitable for installation in the intakes of either naturally aspirated or turbocharged engines.
Once installed and set, the repeatability of the actual engine automatic shut down speed has a greater scatter in the case of turbocharged engines than for naturally aspirated types. However, unless there is an
individual requirement for an exact shut down speed, adequate protection from excessive engine overspeed is achieved.
Description
The actuation force to close the valve is derived from the engine intake air flow passing through the valve. As the air flow increases, this actuation force also increases. The actuation force is resisted by an internal valve spring, the pre-load of which is adjusted via the "Trip Adjuster Screw."
Once the actuation force exceeds the resisting force of the valve spring, the valve rapidly moves to the closed position. Once closed, the CM Series valve remains shut until the engine has entirely stopped. The valve then resets to the open position after a slight delay.
The FPE CM Series of automatic overspeed intake shut down valve kits include a manual actuator connected to the valve via a mechanical cable to enable emergency vavle closure.
Dimensions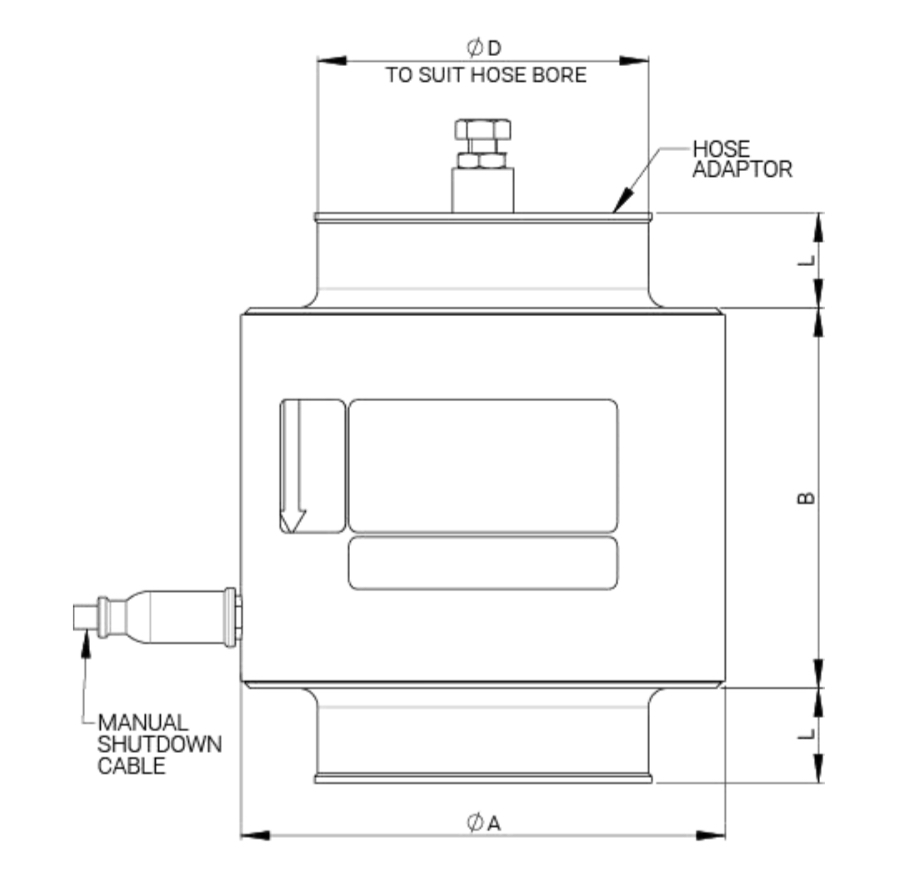 CM SERIES - IMPERIAL DIMENSIONS
IMPERIAL TABLE
ENGINE POWER RANGE (HP)
DIMENSIONS (INCHES)
MODEL
MIN
MAX
A
B
L (MAX)
MASS (LB)
STOCK HOSE ADAPTERS D (OTHER SIZES AVAILABLE ON REQUEST)
CM018
4
24
2.60
2.36
0.79
1.0
1.4
1.5
1.8
1.8
CM027
5
36
3.19
2.36
0.79
0.8
1.4
1.5
1.6
1.8
1.9
2.0
CM045
10
60
4.04
2.99
0.79
1.3
1.8
1.9
2.0
2.3
2.4
2.4
2.5
2.8
CM078
40
105
4.78
3.17
0.79
1.5
2.0
2.4
2.5
2.8
3.0
CM090
54
121*
5.12
3.46
0.98
2.0
2.8
3.0
3.3
3.5
CM110
67
148*
5.67
3.78
0.98
2.6
2.8
3.0
3.3
3.5
CM140
107
188*
6.22
4.06
0.98
3.3
3.5
3.9
4.0
CM185
134
248*
6.89
4.29
0.98
4.2
3.5
4.0
4.5
CM235
174
315*
8.15
4.92
0.98
6.8
6.0
4.8
5.0
5.5
CM290
201
389*
9.13
5.31
1.18
8.4
6.0
CM450
362
603*
11.93
8.3-6.2
1.2-1.6
18.7
6 TO 9 - TO ORDER
CM SERIES - METRIC DIMENSIONS
METRIC TABLE
ENGINE POWER RANGE (HP)
DIMENSIONS (INCHES)
MODEL
MIN
MAX
A
B
L (MAX)
MASS (LB)
STOCK HOSE ADAPTERS D (OTHER SIZES AVAILABLE ON REQUEST)
CM018
3
18
66
65
20
0.26
25
35
38
45
CM027
4
27
81
65
20
0.35
35
38
41
45
48
51
CM045
7.5
45
102.5
80.5
20
0.57
45
48
51
58
60
62
64
70
CM078
30
78
121.5
83.5
20
0.7
51
60
64
70
77
CM090
40
90*
130
90
20
0.9
70
77
83
89
CM110
50
110*
144
101
25
1.2
70
77
83
89
CM140
80
140*
158
109.5
25
1.5
89
98
102
CM185
100
185*
175
114.5
25
1.9
89
102
114
CM235
103
235*
207
131
25
3.1
102
114
127
140
CM290
150
290*
232
141.5
30
3.8
153
127
CM450
270
450*
303
210-158
30-40
8.5
6 TO 9 - TO ORDER
Part Number Look Up
CM Series Air Shutoff Valve - Part Number Lookup
FPE Number
Range in mm
AMOT/Chalwyn Number
CM018 -
025 to 045
D30 - AM
CMF020 - *
035 to 044
D35BF - AM
CMF027 -
035 to 051
D41 - AM
CM045 -
045 to 070
D45 - AM/D51 - AM**
CM078 -
051 to 077
D57 = AM/D64 - AM**
CM090 -
070 to 089
D70 - AM
CM110 -
070 to 089
D80 - AM
CM140 -
089 to 102
D92 - AM
CM185 -
089 to 114
D102 - AM
CM235 -
102 to 140
D121 - AM
CM290 -
127 to 153
D136 - AM
CM450 -
152 to 229
D200 - AM
*This ASV includes a filter **FPE part number listed are used to replace both Amot/Chalwyn part numbers shown
General & Pneumatic Specifications
Valve Selection
The following data is required for FPE to select the most suitable valve for your application:
• Engine type and model
• Engine rating and/or application details
• The internal bore of the intake system hose at the position the valve is to be fitted
• The cable length for the manual shut down
For FPE Coding:
Use metric value for adapter code, add zero to make 3 digit code (e.g. 25 = 025)
Combine inlet and outlet adapter, if the same
Special features by arrangement with FPE
CM SERIES - FPE CODING
CM SERIES - FPE CODING
CM
CM Series
XXX
Max. Engine Power (KW)
-
XXX
Inlet Adapter Size (MM)
-
OXXX
Outlet Adapter Size (MM) (only use if different from inlet)
-
T or L
Manual Close Handle Style (T= T-Handle; L= Lever)
-
XX
Manual Shut Down Cable Length (Meters)
-
SXXX
Special Features Code