CF/CFM Series
Air Shutoff Valves
Engine Power:

4 - 27 HP

Mass:

1.8 LB

Height:

4.59 - 5.14 in.
Automatic Engine Overspeed Shut Down Valve and Air Cleaner Assembly with Manual Shut Down Option
Easily installed range of diesel engine automatic air intake valves with integrated cleaner and manual shut down option.
The Fluid Power Energy (FPE) CF and CFM Series combined manual and automatic overspeed shut down valves are designed for situations where flammable gas or vapor may enter the atmosphere in an area in which a diesel engine is operating.
Should such flammable material be drawn into the engine intake, this may result in uncontrolled engine overspeed, and a situation in which shut down of the diesel fuel supply may fail to stop the engine.
Under these circumstances, a rapid shut down of the engine is required by immediate closure of the engine air intake thereby reducing the potential for significant damage and possible ignition of the flammable material in the surrounding atmosphere.
The FPE CF and CFM Series automatic engine air intake shut down valves are suitable for installation in the intakes of either naturally aspirated or turbocharged engines.
Once installed and set, the repeatability of the actual engine automatic shut down speed has a greater scatter in the case of turbocharged engines than for naturally aspirated types. However, unless there is an individual requirement for an exact shut down speed, adequate protection from excessive engine overspeed is achieved.
Description
The actuation force to close the valve is derived from the engine intake air flow passing through the valve. As the air flow increases, this actuation force also increases. The actuation force is resisted by an internal valve spring, the pre-load of which is adjusted via the "Trip Adjuster Screw."
Once the actuation force exceeds the resisting force of the valve spring, the valve rapidly moves to the closed position. Once closed, the CF and CFM Series valve remains shut until the engine has entirely stopped. The valve then resets to the open position after a slight delay.
The CF and CFM Series automatic overspeed intake shut down valve kit includes a manual actuator connected to the valve via a mechanical cable, this is to enable emergency valve closure.
Dimensions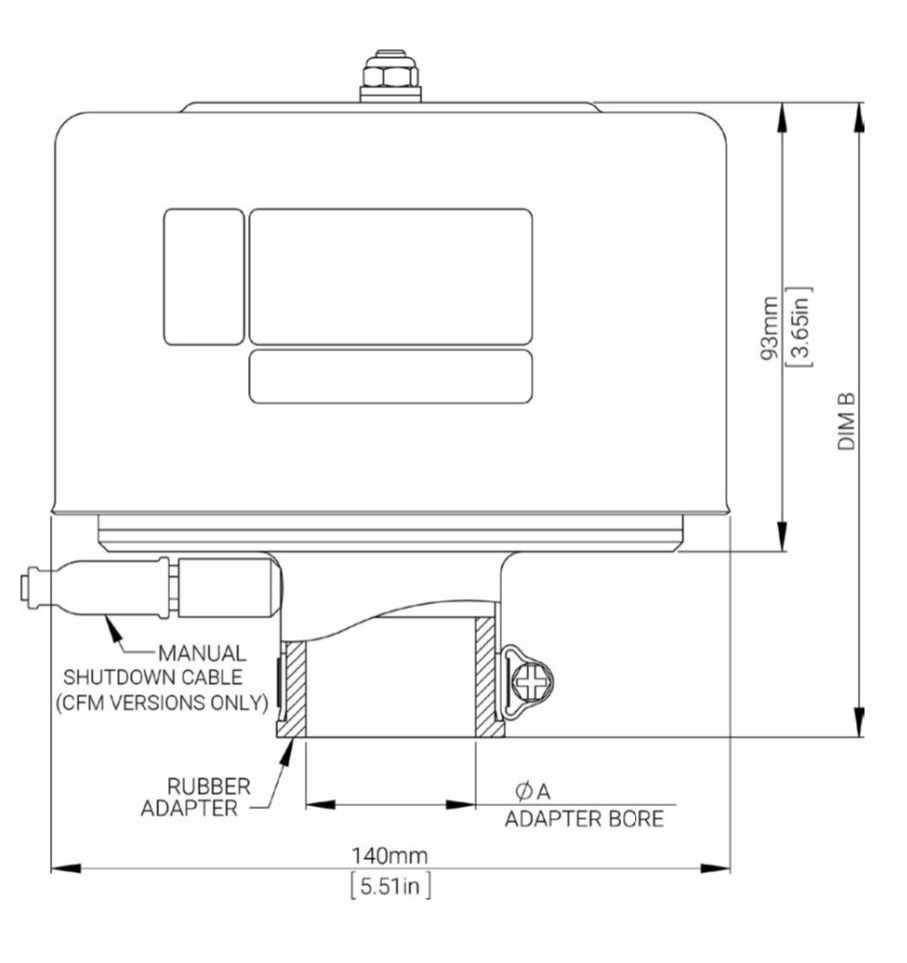 CF/CFM Imperial Table
IMPERIAL TABLE
ENGINE POWER RANGE (HP)
DIMENSIONS (INCHES)
MODEL
MIN
MAX
A
B (CF)
B (CFM)
MASS (LB)
CF035
4
27
1.38
4.59
5.14
1.8
CF038
1.50
CF040
1.57
CF042
1.65
CF044
1.73
CF/CFM Metric Table
METRIC TABLE
ENGINE POWER RANGE (HP)
DIMENSIONS (MM)
MODEL
MIN
MAX
A
B (CF)
B (CFM)
MASS (KG)
CF035
3
20
35
117
131
0.8
CF038
38
CF040
40
CF042
42
CF044
44
Valve Selection
The following data is required for FPE to select the most suitable valve for your application:
• Engine type and model
• Engine rating and/or application details
• The external diameter of the intake system pipe at the position the valve is to be fitted
• If applicable, the cable length for the manual shut down
For FPE Coding:
• Use metric value for adapter code, add zero to make 3 digit code (e.g. 25 = 025)
• Combine inlet and outlet adapter, if the same
• Special features by arrangement with FPE
CF/CFM SERIES FPE CODING
CF/CFM SERIES - FPE CODING
CF CFM
CF/CFM Series
XXX
Adapter Bore Size (MM)
-
T or L
Manual Close Handle Style (T= T-Handle; L= Lever)
CFM ONLY*
XX
Manual Shut Down Cable Length (Meters)
-
SXXX
Special Features Code